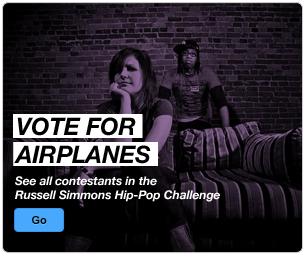 Last Friday night along with a few members of AIRPLANE, I found out that they were chosen for this challenge on MySpace by Russell Simmons himself.
The group has made it to Number FOUR so far after efforts by the entire group asking for Votes from everyone they know on their facebook and myspace pages!
If you have a moment, please visit the link by clicking on the image above and VOTE as many times as you can!
The curlyheaded, blonde young man is my oldest and I am quite proud of him and all the members of this group of fine, young musicians! I hope that they finally get the footing they deserve and see their dreams become reality!
~Peace~
Kym